The Ventura County Community College Police Department has an active Police Cadet Program that plays a vital role in providing quality police services to our college community. The cadets are full-time college students who work part time between 15 and 20 hours per week. To be eligible for summer employment, a student must have previously been enrolled in twelve (12) units in the spring, or can show proof of enrollment as a full-time student in the upcoming fall semester, or be enrolled in four (4) units during the summer session from an accredited educational institution.

The program allows a student to gain valuable experience working in a law enforcement organization while pursuing educational goals. Police cadets are paid student workers and have the opportunity to earn college credit through the Criminal Justice Internship Program.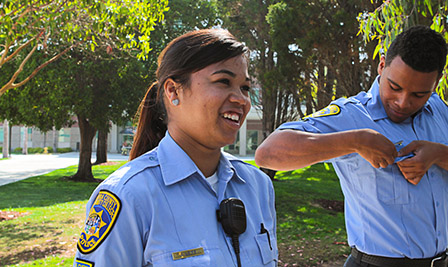 Some of the functions performed by the police cadets include parking enforcement, providing directions and assistance to the public, providing assistance and traffic control at special events, locking and unlocking of campus facilities, greeting the public in the Police Department Office, administrative office functions and assisting the public with jump starts.

Requirements for the police cadet position are:
Currently enrolled as a VCCCD college student with a minimum of 12 units in the fall or spring semester, or 4 units in the summer.
18 Yrs of age.
Possession of a high school diploma or the equivalent.
Possession of a valid California driver's license and a good driving record.
No felony or disqualifying misdemeanor criminal convictions.
Successfully pass a background investigation.
We are always interested in qualified individuals who would like to become police cadets. Our primary hiring periods are during the first part of August just before the start of the fall semester and in December before the holidays (spring semester). However openings during the school year sometimes occur. Applicants must enjoy working with the public and be able at times to work in a fast paced environment. In addition to parking enforcement, the cadets conduct many of the administrative functions of the police offices. Applicants may pick up an application at any of the three College Police Department Offices. Questions can also be directed to any campus police officer.