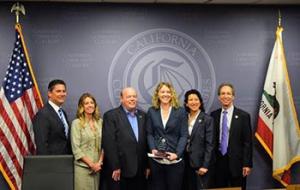 Oxnard College Classified Employee Ashley Chelonis one of four awarded
(VENTURA, Calif.) May 24, 2017 –
The Ventura County Community College District (VCCCD) Board of Trustees is pleased to announce Oxnard College Ashley Chelonis, senior instructional technologies/designer, was honored by California Community Colleges State Chancellor Eloy Ortiz Oakley and the Board of Governors as one of four 2017 Classified Employees of the Year.  This award honors California Community Colleges classified employees demonstrating the highest level of commitment to the mission of community colleges, professional ethics and standards, service to the institution through participation in professional and/or community activities, and service as a leader beyond the local institution.
Chelonis joined the VCCCD in 2010. She leads the districtwide Instructional Technology Advisory Committee as the senior instructional technologies/designer; she is devoted to instructing and supporting staff, faculty, and students in the use and implementation of technologies that support student success; and she is dedicated to improving distance education as a pathway to student learning.  Chelonis also serves on the Executive Board of the Simi Valley Neighborhood Council as an advocate for foster youth; she is a licensed foster parent and a youth leader and mentor.
"Ashley is an exceptional example of the dedicated and committed classified staff who serve the students and community of the Ventura County Community College District," stated VCCCD Chancellor Bernard Luskin.  "Often the people who work behind the scenes, classified employees continue to anchor the foundation of the District and maintain the focus of the VCCCD mission to serve students," said VCCCD Board Chair Bernardo Perez.  "Ashley's commitment to serving students extends beyond the college and into the community.  We are proud to have her as a member of the Oxnard College family.  This honor is well deserved," added Oxnard College President Cynthia Azari.
The Ventura County Community College District is a member of the 113-campus California Community College system, and serves more than 50,000 students annually. The District's three colleges- Moorpark, Oxnard, and Ventura- offer programs in general education for degrees and certificates, transfer to four- year colleges and universities, career technical education, and provide opportunities to engage in co- curricular campus activities. Trustees are Bernardo Perez, Chair, Arturo Hernandez, Vice Chair, and Stephen Blum, Larry Kennedy and Dianne McKay.  For more information, please visit www.vcccd.edu.
###