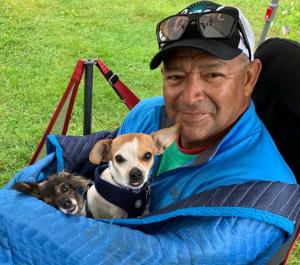 By Michelle De Leon 
When Reynaldo "Rey" Reyes passed away from complications from cancer on April 20, 2020, he left behind his wife in Colorado and the countless lives he touched in Oxnard, and beyond, as a devoted and loving husband, beloved volleyball coach, brother, son, mentor, confidant and lifelong friend. 
Rey was the head coach for Oxnard College's Women's Volleyball team from 2000 to 2006, where he earned the Coach of the Year in the WSC North Division. His reputation for developing players with finesse caught the eye of the Olympic Volleyball team in Colorado, where he was recruited to coach in 2006 as the USA Team prepared for the Beijing 2008 Olympics.  
Rey made Denver his home, coached highly competitive clubs, world class athletes, and elite and professional indoor and beach volleyball players. Whether Rey trained you or your paths crossed briefly, he left a lasting impression, said his sister Maria Reyes-Sanchez, who's a member of Ventura College's EAC Counseling team. 
He was patient, and he cared deeply. He would push you through your discomfort and had you redefine your limits. He taught mental toughness and helped find purpose, she said. An accomplished athlete and nationally sought-out trainer, Rey led volleyball clinics in Wisconsin, Washington, Minnesota, and throughout California. He held "office hours" at every major beach with a court from Santa Barbara to Hermosa Beach.  
Rey grew up in Oxnard, after his family emigrated there from Mexico. The Reyes children were raised in a close-knit traditional home and if the children were not participating together, they weren't doing it at all. His athleticism became clear early on as he flourished in sports like track, volleyball, baseball and football.  
Sports not only provided the means to nurture his sisters and propel him academically and professionally, they guided him to his life's calling. While balancing his academics at Santa Barbara City College, training in sports, and holding a job, Rey would make the 45-minute drive to Oxnard to help his younger twin sisters train for volleyball at Port Hueneme High School. (They became State Champions.)  
He also provided a level of support most only expect from a parent, said Maria, who added that he helped his siblings conquer life's milestones their sheltered upbringing left them unequipped to handle.  
"He saw sports as a vehicle for us to get out of the house and spread our wings," said Maria. "He recognized that volleyball provided an environment for young ladies to develop leadership skills and could open doors of opportunity. He was the one to sit down with our parents and advocate on our behalf.  
My sister and I, along with many other athletes he trained, went on to play on the Division 1 collegiate level with scholarships, went pro, and became coaches and instructors too, she said. Many of the players he coached represented the United States and many also played all over the world, in countries like Brazil, France and Italy.  
After graduating from Santa Barbara City College, then transferring to Cal State Sacramento to play football, he completed his education at Cal State Los Angeles. He also coached at SBCC and Cal State LA. Local high schools where he was head coach include Hueneme, Westlake and Carpinteria.  
"My brother could see it in an athlete's eye when they were hungry to grow. That is what motivated him to drive all those miles, beach to beach," Maria said. "He knew when you had more to give."  
Their mother had emphasized the importance of giving back to their community and Rey honored that by volunteering at Parkview Elementary School in Oxnard with at-risk youth. 
"These were kids that didn't have someone to show them their options and were going down the wrong path. He would always say that he just 'had to catch them' before it was too late," Maria said, adding that he also volunteered as an instructor at the Wounded Warrior Project.  
Just months before his passing at age 54, Rey was doing what he loved, training in the sand, and spending time in his newest "office," the golf course.  
"The impact he made is immeasurable," said Maria. "And the difference he made is unforgettable." 
In short, what made Rey different? He cared. It is that simple and that profound. 
Michelle De Leon is a member of the marketing and communications team at the District Office. She is a Moorpark College alum and student at CSUN.