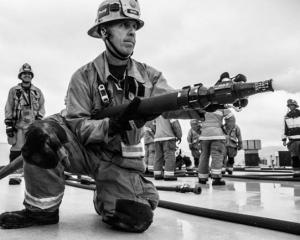 John "Jack" Twitchell has joined Oxnard College as a fulltime tenure track Fire Fighter Academy Instructor. Jack brings a wealth of knowledge, experience and passion to the program.
Jack recently retired from the Arcadia Fire Department (AFD) after a 30-year career where he retired as a fire captain II. During his career with AFD, Jack held the ranks of fire technician, firefighter, fire engineer, and fire captain. During his employment with the fire department, and for the past nine years, Jack also taught at the Oxnard College Accredited Regional Training Program teaching in both the Firefighter 1 and Wildland Fire Academy.
In March 2020, he became the Wildland Fire Academy Coordinator for the Oxnard College Fire Academy.
Jack is both recognized and certified by the California State Fire Marshal's office and the National Wildland Coordinating Group (NWCG) in many disciplines. While employed with the Arcadia Fire Department, he continued to pursue a higher level of education and training and used that training to teach other members by serving as a member of the Training Cadre. Jack was also a member of the AFD Urban Search and Rescue team, Regional Task Force (RTF) 4.
He was actively involved in the Arcadia Firefighters Association throughout his career and served multiple terms as president, vice president, was a member of the AFFA Negotiating Team, and served as the Political Action Committee Chairman.
Jack recognizes that the successes he experienced throughout his career are directly related to the guidance and commitment of educators, peers, and coworkers who dedicated countless hours of instruction to prepare him for each rank he held.
Jack believes in paying it forward and is committed to helping students successfully pursue a career in the fire service. He is excited and proud to be part of the Oxnard College faculty and is looking forward to working with, and alongside of, some of the finest instructors in the state.
Jack enjoys doing just about anything outdoors. His hobbies include surfing, hiking, mountain biking, and motorcycle riding. He has been married to his wife, Lori, for the past 26 years and is excited to see what the future has in store for his daughter and son as they transfer to Cal State Universities.
Jack, his wife, and both children began their pursuit of higher education at community colleges and understand the impact that community colleges have in preparing students for successful careers.