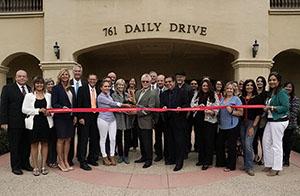 (CAMARILLO, Calif.) Sept. 15, 2017 -
The Ventura County Community College District (VCCCD) open house held Thursday, Sept. 14, 2017, welcomed students, community leaders, residents, faculty, staff, and other guests to its new District Administrative Center (DAC), located at 761 East Daily Drive, Suite 200, Camarillo, CA, 93010. Attendees included Camarillo Councilmember Kevin Kildee, Camarillo Chamber of Commerce Chair Tania Garcia, County of Ventura Supervisor Kelly Long, County of Ventura Chief Executive Officer Mike Powers, City of Ventura Councilmember and former VCCCD Board Chair Cheryl Heitmann, Ventura County Superintendent of Schools Stan Mantooth, representatives from the County of Ventura Board of Supervisors, field representatives for Senator Hannah-Beth Jackson, Congressmember Julia Brownley, Assemblymember Jacqui Irwin, and Assemblymember Monique Limon, local elected school board members, and community partners.
The Ventura County Community College District Board of Trustees, Chancellor, and community
celebrate the successful move of the District Administrative Center (DAC) to
761 East Daily Drive, Camarillo, CA, and officially welcome the community to its new location.
VCCCD Board Chair Bernardo Perez and Vice Chair Arturo Hernández acknowledged the move to a central location in Ventura was a vision and decade-long-planned goal. "Promoting the effective use of organizational resources is one of three broad strategic initiatives established by the Board of Trustees," stated Chair Perez. "The decision to purchase this building aligns with that strategic goal," added Perez. "Through a generous bond approved by taxpayers, we were able to complete major renovations and add new facilities to the college campuses, but it did not include the District office," stated Vice Chair Hernández. "This move completes our long-term facilities plan for the District Administrative Center," stated Hernández.
VCCCD Chancellor Greg Gillespie commented that the District Administrative Center serves the colleges and students through Business and Administrative Services, Educational Services, Economic Workforce Development, Human Resources, Information Technology, Marketing and Communications, and Planning. "We provide services to 1,700 employees who serve more than 32,000 students annually," stated VCCCD Chancellor Greg Gillespie. "We work collaboratively with our K-12 and higher education partners, employers, government and community organizations to leverage resources to maximize access and student success," said Gillespie.
VCCCD Vice Chancellor Business Services David El Fattal thanked District and college employees who were instrumental in the successful move and expressed appreciation to the local community for the welcome and hospitality.
Following the ribbon cutting, attendees networked with VCCCD administrators, faculty and staff and learned about the many educational programs and support services offered at each of the colleges and employment opportunities throughout the VCCCD. In addition, District administrators and staff led participants on guided tours of the 38,893 square feet facility.

The Ventura County Community College District is a member of the 114-campus California Community College system, and serves more than 32,000 students annually. The District's three colleges- Moorpark, Oxnard, and Ventura- offer programs in general education for degrees and certificates, transfer to four-year colleges and universities, career technical education, and provide opportunities to engage in co-curricular campus activities. For more information, please visit www.vcccd.edu.
###