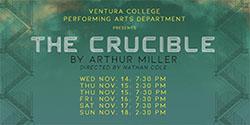 Ordinary desires for love, respect, and power can lead to the devastating consequences of hysteria and persecution. Written as an allegory exploiting the activities of the House Un-American's campaign to overtake the communist movement of the 1950's, Arthur Miller's classic The Crucible demonstrates humanity's tendency towards mob rule and how the power of accusation and insinuation shifts the burden of proof to the accused rather than the accuser.
This production is not appropriate for children under thirteen due to some violence and adult situations. In addition, it contains smoke effects.
Free parking is available for Friday through Sunday events in the West Parking lot, adjacent to the Performing Arts Center. Parking on campus for Wednesday and Thursday events requires a parking pass ($2) available in the parking lot at designated parking pass dispensers.
For more information about the play, please contact Nathan Cole (director/faculty producer) by phone at (805) 289-6512 or by email at ncole@vcccd.edu.
Location: Ventura College Performing Arts Center Helen Yunker Auditorium