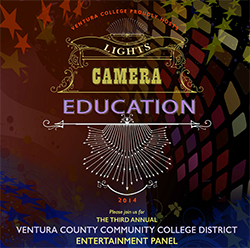 Lights, Camera, Education!  Please join us for the Third Annual Ventura County Community College District Entertainment Panel on Wednesday, December 10, 2014, 6-8 p.m., at Ventura College, Guthrie Hall, 4667 Telegraph Road, Ventura, CA 93003. 
Hear experts share their stories, experiences, and advice about the entertainment industry and the REAL Hollywood.  Panelists will respond to audience questions as moderated by VCCCD Chancellor, Dr. Jamillah Moore.  Panelists include Beverly Ware, Entertainment Lawyer; Rick Najera, Director, Screenwriter, Actor, and Comedian; Jose Yenque, Actor, Producer, Humanitarian; and Steve Binder, Director, Producer, and Writer.  This event is free and open to students, employees, and the public. 
Event Contact: Laurie Nelson-Nusser, tel. 805-652-5508, or email at LNusser@vcccd.edu.