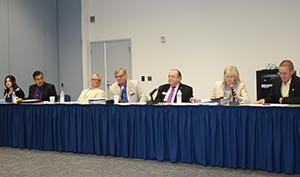 (VENTURA, Calif.) March 7, 2016 –
The Ventura County Community College District hosted a major Public Policy Hearing on Accreditation at the Ventura County Office of Education (5100 Adolfo Road, Camarillo, CA), Wednesday, March 2. The three district colleges (Moorpark, Oxnard, and Ventura) are preparing required accreditation documents for accreditation site visits from the Association of California Community and Junior Colleges, Western Association of Schools and Colleges, scheduled for September, 2016.
Members of the board of trustees, Chancellor Bernard Luskin, college presidents, staff and members of the Citizens Advisory Committee discussed the four major accreditation standards. Standards presented included 1) Mission, Academic Quality and Institutional Effectiveness, and Integrity; 2) Student Learning Programs and Support Services; 3) Resources; and 4) Leadership and Governance.
Ventura College President Greg Gillespie and Moorpark College Academic Senate President Mary Rees, Co-Chairs of the District Council on Accreditation and Planning (DCAP), presented the status of the colleges' self-evaluation documents and an accreditation timeline update. Members of the Citizens Advisory Council, college constituents, and the general public actively contributed during the public discussion.
All five district trustees participated. Elected VCCCD Trustees are Dianne McKay, Steve Blum, Esq., Bernardo Perez, Arturo Hernandez, and Larry Kennedy, Chair.
"We value the community participation in sharing ideas and thoughts on how we can improve our VCCCD educational services," said Chair Kennedy. "We appreciate the hard work that our DCAP Co-Chairs and the entire committee and staff have put forth to ensure that the colleges are properly prepared for our upcoming accreditation visits. This public forum and Citizens Advisory Committee meeting is part of the normal process of accreditation," said Kennedy.
 
PHOTO: (L-R) Ventura County Community College District Board of Trustees Ilse Maymes (student trustee); Arturo Hernandez; Bernardo Perez (Vice Chair); Larry Kennedy (Chair); Dr. Bernard Luskin (Chancellor); Dianne McKay; and Steve Blum during the public policy hearing on accreditation.

###