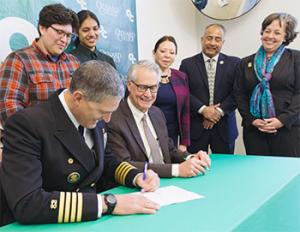 The Ventura County Community College District and the Naval Base of Ventura County, Naval Facilities Engineering Command sign partnership agreement
OXNARD, Calif. -
The Ventura County Community College District (VCCCD) and the Naval Base of Ventura County, Naval Facilities Engineering and Expeditionary Warfare Center (NAVFAC EXWC), are collaborating to strengthen skills training and local employment outcomes in the science, technology, engineering and mathematics (STEM) fields.
The agreement, signed February 27, focuses on four key pillars designed to ensure that students across Oxnard, Ventura and Moorpark colleges have access to a competitive STEM education and the ability to connect with the county's largest employer. Objectives include increasing internship opportunities, facilities sharing, mentor programs, and career pathways.
VCCCD Chancellor Dr. Greg Gillespie joined NAVFAC EXWC Captain John Adametz in signing the memorandum. VCCCD Board of Trustees Mr. Stephen P. Blum, Esq. and Mr. Bernardo M. Perez, along with Oxnard College President Dr. Cynthia E. Azari and students, faculty and staff, were also present.
"The efforts of the Hispanic-Serving Institutions STEM grant program at Oxnard College have shown a commitment to STEM excellence through this partnership with the Naval Base Ventura County," Gillespie said during his remarks at the signing. "This agreement offers students an amazing opportunity to connect with local STEM professionals, as Naval Base Ventura County is the largest employer in our county. All three of the colleges in the district will directly benefit."
"I'm pleased that we are able to provide yet another pathway for our students to pursue high-quality STEM careers," added President Azari.
NAVFAC EXWC offers cutting-edge career opportunities in nearly every STEM discipline. In Ventura County alone, approximately 1,100 scientists and engineers provide research and technology solutions to the Navy, Marine Corps, federal agencies, and other Department of Defense commands. Most positions are located in Port Hueneme, Calif.
"In an effort to serve as mentors for underrepresented populations, we recognize the importance of incorporating mentoring in the work that we do," said Capt. Adametz. "This mentoring cultivates dynamic relationships that span the breadth and depth of a given profession. These relationships are mutually beneficial to individuals and collectively empower the profession and community." For more information on the VCCCD partnership agreement and the opportunities it provides, please contact Oxnard College STEM/Project Acabado Director Dr. Marcella Klein Williams (mkleinwilliams@vcccd.edu) or NAVFAC EXWC contact: Cheryl Monzon, MBA, CDFM-A, STEM coordinator (cheryl.monzon@navy.mil), Palmer Pinckney II, NAVFAC EXWC Public Affairs Officer (palmer.pinckney1@navy.mil) 805-982-1069
About Oxnard College
Established in 1976, Oxnard College is a fully accredited California Community College (part of the Ventura County Community College District), providing approximately 7,000 students a year with academically excellent undergraduate study and career technical education programs. Students may choose from more than 60 educational disciplines, culminating in transfer degrees, associate degrees and certificates. Oxnard College has strong articulation agreements with the University of California and California State University systems, as well transfer partnerships with private universities and colleges. Oxnard College is home to some of the state's leading athletic programs, including a championship soccer team.
About NAVFAC EXWC
NAVFAC's Warfare Center was established in September 2012. On Dec. 12, 2017, EXWC was authorized as the DOD's newest Science and Technology Reinvention Laboratory. NAVFAC EXWC is a command of more than 1,100 dedicated federal employees, contractors, and military personnel who provide specialized facilities engineering, technology solutions, and life-cycle management of expeditionary equipment to the Navy, Marine Corps, federal agencies, and other Department of Defense supported commands.
###