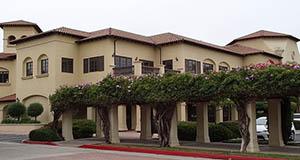 (VENTURA, Calif.) Nov. 16, 2016 –
Board of Trustees Chair Larry Kennedy of the Ventura County Community College District announced that the district has closed escrow on its new District Administrative Center, located at 761 East Daily Drive, Camarillo. Trustees Stephen Blum, Arturo Hernández, Larry Kennedy, Dianne McKay and Bernardo Perez unanimously approved the acquisition during the October 11, 2016, Board meeting. Escrow opened immediately with a $150,000 deposit following the meeting.

"Moving the administration building to the center of the district will benefit everyone," said Chancellor Bernard Luskin. "In addition, the new location will provide cost-savings benefits and future growth opportunities that will allow the district to expand its services to students and other community stakeholders. We anticipate the District offices will relocate in April 2017," said Kennedy.

The 38,893 square feet building is situated on a 20-acre professional office zoned and master-planned seven-building site. The district negotiated a purchase price of $7 million. Approximately $1 million more will be expended for closing costs, appraisal and inspections, interior building renovation and improvements, furniture and equipment, and signage and moving costs.

The new District Administrative Center is centrally located in Camarillo within the VCCCD countywide service area and provides improved ease of access for students, faculty, staff and community members. It also assures adequate office and storage space, training and conference rooms, a board room and sufficient parking. In addition, there are long-term lease agreements with four tenants that will provide the District with approximately $272,000 in annual lease payments, along with the annual savings of $420,000 from the elimination of the District's current monthly lease obligation.

The Ventura County Community College District is a member of the 113-campus California Community College system, and serves more than 50,000 students annually. The District's three colleges- Moorpark, Oxnard, and Ventura- offer programs in general education for degrees and certificates, transfer to four-year colleges and universities, career technical education, and provide opportunities to engage in co-curricular campus activities.

###