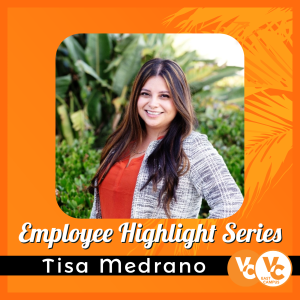 VCCCD would like you to get to know the staff and faculty who contribute their time, talent, and education to the success of our students. We will regularly highlight employees across all four campuses and the District Administrative Center, sharing their professional expertise, their educational path, and a few fun facts about them.
Tisa Medrano, Administrative Assistant to the VP of Student Affairs at Ventura College
Describe your position in 2-3 sentences: As the senior administrative assistant, I work closely with the Vice President of Student Affairs at Ventura College and support the division of Student Affairs with diverse functions. I also have the pleasure of working directly with students on campus and assisting them through their journey at Ventura College.
 How long have you worked for the District?    
I've worked for the District since March 2019. I was hired as a part-time office assistant in the Maintenance and Operations office, and after four months I was hired full-time in the Admissions and Records Office. I've also worked as the office assistant in the office of the Vice President of Academic Affairs. I started my current role in January 2022.
Are you a VCCCD alum? If yes, which college? 
I'm a Ventura College alum—Go Pirates! As a first-generation student, I'm so grateful for the amazing staff at Ventura College who helped support me through my academic journey. I'm also an alumnus of California State University Channel Islands, where I completed my bachelor's degree, and I'm currently attending California Lutheran University pursuing my master's degree in Counseling and College Student Personnel.
 When you're not working, what do you enjoy doing?
When I'm not working, I enjoy spending time with my family, traveling, and watching my sons play basketball. My favorite place to travel so far has been Greece. 
 What do you find rewarding about your job or career? 
The most rewarding thing about my job is the opportunity to make a difference in my community and the lives of students. Working with our amazing team, I'm reminded of the common goal and mission to best support our students.
Two words to describe yourself:
Resourceful and Kind
Bonus Question: Where is your happy place?
My happy place will always be spending time with my family. I'm blessed to have an amazing family.