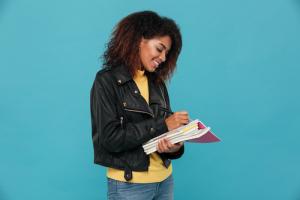 Written by Lauren Rosenthal, a Moorpark College student and student worker with the Ventura County Community College District.
Tips for Studying Smarter with Remote Classes
With a majority of the fall semester classes being remote, we wanted to share some strategies to help you succeed in your classes. 
Limit Your Distractions
Distractions can make studying at home difficult and oftentimes unsuccessful. Whether it's the TV, YouTube, or Twitter notifications, distractions have the potential to torpedo your productivity. Stay focused by creating a clean, quiet space. Turn off the notifications on your phone. Or, better yet, turn off your phone completely.
Create a Study Schedule
Write down your study schedule or create one on your computer. Being so specific may seem silly, but it's really helpful. Simply write out the specific dates and times for each week you're committing to your courses and you're one step closer to mastering your online study and time- management skills.
Break it Down
Take your study schedule to the next level by mapping out what assignments (or pieces of an assignment) you're going to tackle at each study session. It might be too much to read a whole book chapter in one session, for example, so break it up into manageable chunks over several sessions. This way, you'll get all of your reading done, be more prepared for class and won't have to pull an all-nighter before the exam.
Use & Review Your Notes 
You've likely mastered the art of note-taking. To make better use of all that hard work and hand cramping, review your notes a few times a week and get a greater grasp of your coursework. This review process will also save you the stress of cramming for exams.
Stay Positive
It's important to maintain self-care all the time, but especially during the pandemic. While studying is important, so is your health. Remember to take a break from those textbooks and relax a bit. Sleep well, eat well and exercise. And if you need additional help for self-care, reach out to the Student Health Centers on our campuses.