Friday, February 26, 2016 - 5:00pm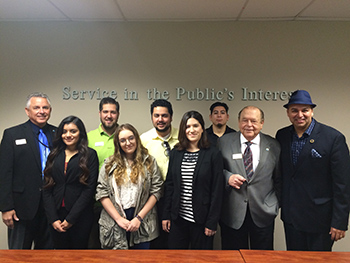 State Board of Governors member Arnoldo Avalos (far right) next to Ventura County Community College District Chancellor Bernard Luskin and Student Trustee Ilse Maymes during his visit to the District on Friday, February 26, 2016. Avalos spent time engaging with students from Moorpark, Oxnard and Ventura College after sitting in on the District Council on Accreditation and Planning and Consultation Council meetings.
VCCCD is one of more than 25 districts that Avalos has visited since his appointment. His visit culminated with a tour of Ventura College hosted by Vice Chancellor Educational Services Rick Post (far left), Ventura College Foundation Executive Director Norbert Tan, Director of Major and Planned Giving Anne Paul King and Dean/Athletic Director Will Cowen.