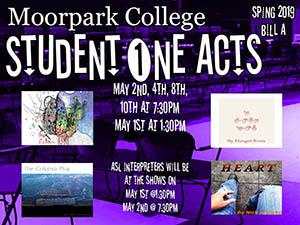 BILL A:
May 1 @ 1:30pm
May 2, 4, 8 and 10 @ 7:30pm
BILL B:
May 1, 3, 9 and 11 @ 7:30pm
May 8 @ 1:30pm
If you're wondering where the next generation of playwrights and screenwriters are coming from, then look no further. This production of original one act plays written, produced and directed by MC students offers something for everyone. Styles run from comedy to tragedy and there's never a dull moment as our students celebrate their generation, their culture and the trials and tribulations of going to college in this day and age. While content can be for mature audiences, each play will force the audience to think about pressing issues confronting our students today. Don't miss this wonderful opportunity to delve into the hearts and minds of our students as we laugh and learn about the theatrical art form.
Contact: 805-378-1485
Location: Moorpark College Performing Arts Center - Studio Theatre