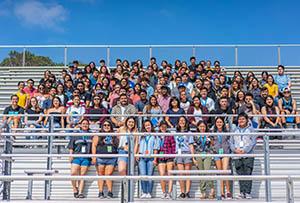 CAMARILLO -
Oxnard College is expanding and creating programs to support undocumented students and their families so that more people will be able to realize their full potential.
Oxnard College is one of 32 campuses throughout California that received support this school year from the new California Campus Catalyst Fund. To date, the Catalyst Fund has raised nearly $10 million for this three-year initiative, which was founded by educators, funders, and advocates. The Fund increases support for undocumented students and their families on campuses representing the state's three public higher education systems: California Community Colleges, California State University, and the University of California.
Vice President Oscar Cobian stated, "Oxnard College is excited to receive this grant from the California Campus Catalyst Fund to serve undocumented students and their families. Our campus has long been a center of hope and opportunity for all students. We have seen how an education at Oxnard College gives our students the power to improve their lives and impact our community."
The program at Oxnard College will provide the following services during the first-year:
Implement a needs assessment with undocumented students and their families.
Open a Student Dream Resource Center on campus (Monarca Center) that will provide various support services such as tutoring, mentoring, and referral to legal assistance.
Increase access to mental health workshops and counseling.
During the week of October 15-19, 2018, Oxnard College will engage in a week of advocacy and activities to support and build awareness of undocumented students throughout on campus as part of a statewide campaign through the California Community College Chancellor's Office (CCCCO). Undocumented Student Week of Action is a student-led campaign to advocate for a permanent solution to codify the Deferred Action for Childhood Arrivals (DACA) program and include a pathway to citizenship, and to provide support and resources to ALL undocumented students. Throughout the week, Oxnard College's Dreamers Club and Allies will host a series of webinars and activities on campus.
For more information, please contact Dr. Oscar Cobian, Oxnard College Vice President Student Development, ocobian@vcccd.edu

About Oxnard College: Established in 1975, Oxnard College is a fully accredited California Community College (part of the Ventura County Community College District), providing 10,000 students a year with academically excellent undergraduate study and career technical education programs. Students may choose from over 60 educational disciplines, culminating in transfer degrees, associate degrees and certificates. Oxnard College has strong articulation agreements established with the University of California and California State University systems, as well transfer partnerships with private universities and colleges. Oxnard College is also home to some of the state's leading athletic programs, including a championship soccer team.
About Ventura County Community College District: The Ventura County Community College District is a member of the 114-campus California Community College system, and serves more than 32,500 students annually.  The District's three colleges- Moorpark, Oxnard, and Ventura- offer programs in general education for degrees and certificates, transfer to four-year colleges and universities, career technical education, and provide opportunities to engage in co-curricular campus activities.