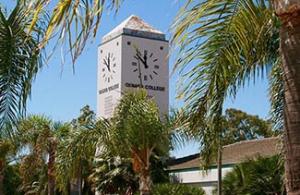 The California Promise and the Oxnard 15 to Finish Promise are making the first two years of community college tuition free.  
Together, these two programs pay the per-unit cost of classes taken at Oxnard College for the first two years of college tuition for full-time, first-time college students. In addition to financial savings, students benefit from smaller class sizes, highly-qualified instructors, industry partnerships, and guaranteed UC and CSU transfer admission pathways.
"With the Promise, Oxnard College expands the opportunities for more individuals in our community to pursue their educational and career goals," says Dr. Oscar Cobian, Vice President of Student Development. "Providing a second year of funding eliminates the financial burden of paying for college expenses and encourages students to enroll full-time to complete their program expeditiously."
Promise recipients also have access to priority registration, dedicated support programs, expanded college orientation, career advising, and transfer guidance.
The priority application deadline for the Oxnard Promise is June 1, 2018, however, students can continue to apply after this date. The program will serve approximately 700 students. Acceptance into the program is on a first-come, first-serve basis.  
Interested students must complete the following six steps:   
Submit an Oxnard College application
Complete a Free Application for Federal Student Aid or California Dream Act
Complete the Oxnard Promise application online
 Attend an Oxnard College orientation (available online or in-person)
Complete the Math and English assessment placement
Complete an educational plan with an Oxnard College counselor
The first year of the Promise is supported by the California College Promise Grant (Assembly Bill 19), while the second year - the Oxnard 15 to Finish Promise - is generously funded by the Oxnard College Foundation.  Says Oxnard College President Cynthia E. Azari, "We hope this will help more of our local high school students transition to college and get the support they need to succeed - to take a full load of classes, and transfer, or acquire a degree or certificate - to move on to rewarding life opportunities."
About Oxnard College
Established in 1976, Oxnard College is a fully accredited California Community College (part of the Ventura County Community College District), providing over 7,000 students a year with academically excellent undergraduate study and career technical education programs. Students may choose from over 60 educational disciplines, culminating in transfer degrees, associate degrees and certificates. Oxnard College has strong articulation agreements established with the University of California and California State University systems, as well transfer partnerships with private universities and colleges. Oxnard College is also home to some of the state's leading athletic programs, including a championship soccer team.