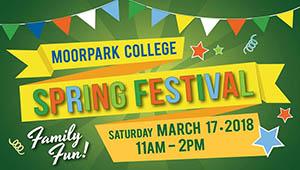 Moorpark, CA -
Moorpark College will open its gates on Saturday, March 17th for its first Spring Festival, an open house celebration for the whole community. Friends and families will enjoy games, food, performances, and other activities including a classic car show. This free event is open to the public and will take place from 11:00 a.m. – 2:00 p.m. in front of the campus's Performing Arts Center.
Moorpark College's Spring Festival will spotlight the campus's diverse clubs and esteemed academic programs. It will also include activities and shows from special sponsors, including a Home Depot workspace where guests can learn about planting and potting flowers. Additionally, the festival will feature classic cars and hot rods from Roam'n Relics Car Club. "This free event is for everyone," shares April Montes, an outreach specialist at Moorpark College. "We have a bounce house and train rides for children, live shows and carnival games for the family, and delicious food for everyone!"
Additional activities will include Moorpark College's annual Discovery Day, a separate fundraiser hosted by the campus's Child Development Center (CDC). Program faculty and students will engage young children in developmental exercises while families enjoy raffles, food trucks, live music, and a book fair. CDC provides early care and education for children, enhancing their personal and physical development. Admission to Discovery Day is $5 for adults and $8 for young children. Additionally, the day's events will include an 8:00 p.m. performance of William Shakespeare's Comedy of Errors, a farcical play that examines mistaken-identity and human frailty. Presented by Moorpark College's Theatre Arts Department, ticket prices for this comedy range from $8-12.
Finally, Moorpark College's Spring Festival will also take place in conjunction with the opening day of Spring Spectacular, an annual event at America's Teaching Zoo where guests will get a behind-the-scenes look at exotic wildlife. The zoo's Spring Spectacular will take place from 10:00 a.m. – 5:00 p.m. on March 17th, 18th, 24th, and 25th at Moorpark College.
For additional information regarding the Spring Festival and its related events, please call April Montes at (805) 553-4976 or visit http://bit.ly/MCSpringFest2018. Those interested in learning more about Spring Spectacular at America's Teaching Zoo should please call (805) 378-1441 or visit www.moorparkcollege.edu/zoo. Moorpark College is located at 7075 Campus Road Moorpark, California.
###
MOORPARK COLLEGE, one of three colleges in the Ventura County Community College District, was founded in 1967. It is set on 150 beautiful acres, nestled in the foothills on the southeastern flank of Ventura County, about 40 miles from UCLA, and approximately 75 miles from UC Santa Barbara. It is also a short drive from CSU Northridge, CSU Channel Islands, and California Lutheran University. Moorpark College was recognized in the Huffington Post in March of 2015 as the fourth-best community college in the nation. It has an excellent reputation for university transfer preparation, and its signature career/technical programs include nursing, radiation technology, biotechnology, and exotic animal training, which incorporates the world-renowned America's Teaching Zoo. The college also offers a dynamic range of classes and programs in the visual and performing arts, and its pristine athletic fields and mild climate provide an excellent home for student athletes.