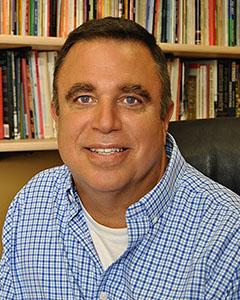 Moorpark, CA –
Moorpark College's Department Chair for Communications Studies and Media Arts, Professor Rolland Petrello, has been presented with the College's 2018-19 Distinguished Faculty Chair Award. The honor was announced during the College's Convocation held on Friday, August 17th. Established by the Moorpark College Academic Senate, this annual award acknowledges faculty who have shown exceptional commitment to academic excellence during their career at Moorpark College.
Professor Petrello began teaching at Moorpark College in 1991. Since then, he has helped continue the winning legacy of the school's speech and debate team as a nationally-ranked program. Petrello first became acquainted with the team as a student when he studied under the program's founder, Professor Dick Strong. "From the very first speech he delivered, it was apparent that his potential as a public speaker was unlimited," Strong shares. "I asked if he would consider becoming a part of our program. He accepted the invitation and the rest, as it is said, is history."
The Moorpark College Forensics Team has won more national titles than any other speech team in the nation. Since its founding in 1972, the team has never dropped below 8th place nationally. "These successes are the hard-earned product of a longstanding team effort," says Petrello. "For 28 years, I have been privileged to work alongside talented colleagues who've led our hardworking students to a tremendous record of success." In fact, the team has won the California State Championship over 20 times and has the taken home the National Championship Title on 10 occasions.
Petrello is known for having an electric personality that can make any classroom discussion engaging. His Rhetoric of Popular Culture course is consistently filled to capacity. Students say they often feel sore from laughing so hard during the class, and also speak passionately of the impact Petrello's lessons have had on their lives. One current student wrote, "You can tell that Professor Petrello is deeply passionate about his students and work. We need more teachers like him in the world."
Nominations for the Distinguished Faculty Chair Award are reviewed by the Senate's Award Committee, which is comprised of previous awardees, the Vice President of the Academic Senate, and members of the Academic Senate Council. While reviewing nomination letters, the committee seeks evidence of excellence demonstrated in the following areas: instruction, campus service, professional development, and in other areas that demonstrate exceptional commitment to academic teaching and learning.
"It really is a humbling process to review supporting letters on behalf of all our nominees," shares Academic Senate Vice President Nathan Bowen. "Educators' contributions too often go unnoticed, which is why this award recognizes the lasting impact that talented faculty like Professor Petrello can have on students' lives over the course of their teaching careers."
Those interested in learning more about the Distinguished Faculty Chair Award or this year's recipient should please call Nathan Bowen (805) 553-4682.
Moorpark College is located at 7075 Campus Road Moorpark, California. MOORPARK COLLEGE, one of three colleges in the Ventura County Community College District, was founded in 1967. It is set on 150 beautiful acres, nestled in the foothills on the southeastern flank of Ventura County, about 40 miles from UCLA, and approximately 75 miles from UC Santa Barbara. It is also a short drive from CSU Northridge, CSU Channel Islands, and California Lutheran University. Moorpark College was recognized in the Huffington Post in March of 2015 as the fourth-best community college in the nation. It has an excellent reputation for university transfer preparation, and its signature career/technical programs include nursing, radiation technology, biotechnology, and exotic animal training, which incorporates the world-renowned America's Teaching Zoo. The college also offers a dynamic range of classes and programs in the visual and performing arts, and its pristine athletic fields and mild climate provide an excellent home for student athletes.
###