Sunday, March 15, 2020 - 1:30pm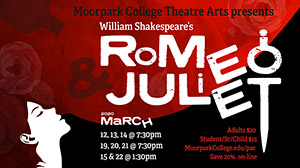 Today's 3/15 @ 1:30 performance of ROMEO AND JULIET has been CANCELED. If you purchased your ticket online, a refund will be issued later today. If you purchased your tickets at the Box Office, please stop by the Box Office next week for a refund.
William Shakespeare's classic tale of romance and tragedy will be brought to the Moorpark College stage in full Elizabethan garb. Audiences will swoon with the star-crossed lovers, laugh with ribald antics of Romeo's friend and confidant, Mercutio, and weep at the tragic end that befalls them all. This spirited tale of love and loss is sure to attract audiences of all ages as one of Shakespeare's greatest works is brought to life on the stage. If you're a fan of dramatic sword fights, beautifully designed costumes and scenery, lively dances and romantic poetry, you won't want to miss this full scale theatrical production on the Moorpark College Main Stage.
March 12, 13 and 14 at 7:30pm
March 19, 20 and 21 at 7:30pm
March 15 and 22 at 1:30pm
Event Location: Moorpark College PAC - Main Stage
Contact: 805-378-1485