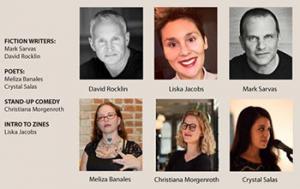 Moorpark, Calif. (March 29, 2019) -
Moorpark College will host its second Writers Festival Friday, April 5, from 8 a.m. to 5 p.m. This celebration of writers and their work is open to all Ventura County students, faculty, staff, and high school juniors and seniors. The Festival will prepare budding writers to generate and develop new work to share at the day's open mic.
Nationally acclaimed performers and writers Meliza Bañales, Liska Jacobs, Christiana Morgenroth, Mark Sarvas, David Rocklin, and Crystal Salas will run lively and engaging workshops in fiction, poetry, zines and stand-up comedy. Additionally, each speaker will provide feedback for up to five manuscripts on a first-come, first-served basis.
"Last year's festival was well organized, with so many pieces attended to in the organization: scholarships for deserving students, free lunch for attendees, open mic session for volunteers, skillful and highly regarded presenters, and well-organized feedback process," says Gail Field of Conejo Writers Group. "There was an atmosphere of camaraderie as well as enthusiasm for writing and learning. I can't wait for this year's event!"
The Festival will start with registration and breakfast snacks, a welcome and introduction from Festival Director, Sandra Hunter, and Ventura Youth Poet Laureate Unique Shehee. Participants are welcome to join morning workshops in poetry, fiction, stand-up comedy and intro to zines. After a Corner Bakery lunch, the teachers will provide readings and Q&A sessions. Participants can also attend a performance workshop. The day ends with an open mic hosted by poets Crystal Salas and Meliza Bañales.
The Writers Festival will be hosted at Moorpark College (7075 Campus Road Moorpark, California). Early bird reservations are $40 from March 1 – April 5 or $20 per attendee for groups of 10 or more students. Admission includes parking, workshops, morning refreshments, a boxed lunch, admission to the afternoon open mic, and an optional manuscript review.
For more information, please visit http://bit.ly/mcwf2019. For group reservations, please contact Tracy Stewart at mcfoundationasst@vcccd.edu or (805) 553-4761.