Saturday, October 27, 2018 - 7:30pm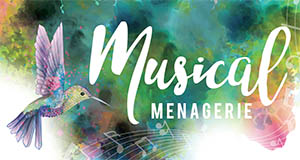 Join the Moorpark College Choral Program and the Symphony Orchestra for a menagerie of music. Featuring Camille Saint-Saens' Whimsical orchestra works, ''The Carnival of the Animals,'' the orchestra explores various musical colors to portray various animals.
The Symphony Orchestra and Chorus join together to perform ''Lux Aeterna'' by living composer Morten Lauridsen. This Stunning work is based on various references to light drawing upon sacred Latin texts.
October 26 & 27 at 7:30pm

Location: Moorpark College Performing Arts Center
Contact: 805.378.1485