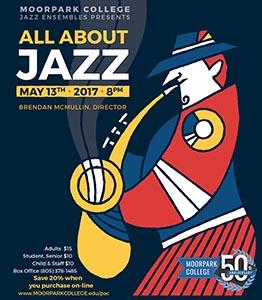 Join us for a night of great jazz music featuring the Moorpark College Jazz A Band, Jazz B Band, and Jazz Combos. These award winning ensembles (two time reigning champions in the community college division at the Reno Jazz Festival) will perform a wide variety of jazz repertoire showcasing our talented student musicians.
Directed by Brendan McMullin.
Saturday, May 13, 2017 at 8:00pm.
Location: Moorpark College PAC - Main Stage
Contact: 805-378-1485