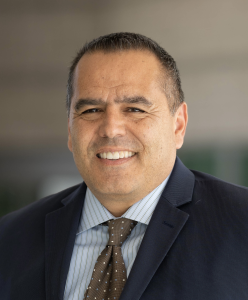 This article ran in the VC Star on Feb. 19, 2023.
By Dr. Oscar Cobian
During Black History Month, I find myself reflecting on the people and events that have shaped my journey to becoming a leader in education. Years ago, as a middle school student in Camarillo, I took classes from Ms. Zena Mitchell, a Black woman who had a profound impact on my educational growth.
Ms. Mitchell introduced my classmates and me to Black authors such as Langston Hughes and musicians like Nina Simone. She helped me develop a lifelong appreciation for culture and history, instilling a deeper appreciation for the American story.
Unfortunately, Ms. Mitchell was the only Black teacher I encountered until I reached graduate school. I often wonder how she felt as the sole Black educator at her school, whether she felt supported by her colleagues, and what inspired her to continue teaching in a district with so few people of color. All these years later, Ms. Mitchell's impact on me remains.
Today, as acting president of Oxnard College, I feel strongly that we must all work to expand educational and career opportunities for our community's Black families. Institutions like Oxnard College can create generational change and strengthen our community by building pathways for more Ms. Mitchells to teach in our classrooms and lead here in Ventura County. Efforts are underway on our campus and throughout the Ventura County Community College District to do just that.
We at Oxnard College are leveraging our decades of experience serving working families to more equitably deliver resources and support to Black students. We know that men of color represent only 17.5% of all postsecondary enrollment nationwide, according to the Postsecondary National Policy Institute, which is why we launched our OMEGA program. This initiative improves success and retention rates for men of color by providing academic and personal support.
Additionally, we offer targeted student support programs, financial aid opportunities and student life activities to help underrepresented students afford college, feel that they belong and achieve their educational goals. We also established an Anti-Racism Workgroup to build a more inclusive and anti-racist campus community following the tragic death of George Floyd in 2020.
We are also the proud home of the Community Advocacy Coalition's 99.3 FM (KJBU) radio station, one of only four Black-owned FM radio stations in California. Broadcasting from right here on campus, the station provides programming on a range of socioeconomic and cultural issues relevant to our community, including their weekly podcast "The Highs and Lows," which features Oxnard College students weekly.
Additionally, our campus's Black History Month celebration will culminate with two events open to students and the community on Thursday: Professor Tim Fontenette's presentation on Black Wall Street from 11:30 a.m. to 12:30 p.m. in our Student Lounge and OC LIVE's performance with Zuzu African Acrobats at 6 p.m. in the Performing Arts Building.
We know more needs to be done, which is why last year we updated our Student Equity Plan to serve as a compass for program and professional development, resource allocation and institutional planning that lifts up underserved communities and sets ambitious goals for enrolling more Black students and helping them succeed.
We'll do this by engaging K-12 schools and faith communities, families, sports leagues and youth organizations. We'll broaden our culturally relevant curriculum and create a stronger sense of belonging by celebrating Black culture through events and student groups. We'll also expand our partnerships with Historically Black Colleges and Universities (HBCUs) and analyze internal data to determine how our Black students are performing and how we might better serve them.
These efforts extend to all corners of Ventura County, where our sister colleges in Ventura and Moorpark are also working to better serve Black residents. Under Moorpark College's African American Student Success Initiative, the school's A²MEND chapter offers support, mentorship, and resources for Black male students.
Both Moorpark and Ventura colleges also have Black Student Unions, which provide Black students and employees with a shared space for community and empowerment. We're proud that all three of our colleges offer transfer guarantees to HBCUs throughout the nation.
Much work remains to provide equitable access, resources and outcomes for Ventura County's Black students. Through these efforts, we hope to ensure that more Ms. Mitchells have the opportunity to enrich and lead our community. We know we don't have all the answers and can always do better. Together, Oxnard, Moorpark and Ventura colleges intend to do just that.
Dr. Oscar Cobian is the acting president of Oxnard College. For more information about Oxnard College, visit OxnardCollege.edu.