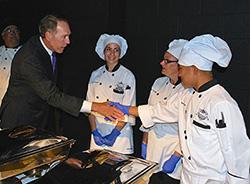 Ventura County Community College District recently hosted California Community Colleges Chancellor Brice Harris for a Chancellor's Circle luncheon on "Condor Day" at Oxnard College.  Over 70 guests attended the event, representing Trustees, Chancellors, Presidents, Academic Senates, Foundation Directors, District/College employees, and community leaders from around the state. 
Chancellor Harris and attendees toured Oxnard College upon arrival, enjoying a performance by members of the Oxnard College Ballet Folkloríco Mestizo and visiting Student Services and the Library/Learning Resources Center.  The luncheon showcased the talents of Oxnard College Culinary Arts and Restaurant Management students, who prepared and served the meal as a classroom assignment. 
Chancellor Harris focused his remarks on increasing access for students and the importance of student success as main objectives.  "The California Community Colleges are foundational in strengthening our economy and in providing a pathway into the middle class for our citizens.  Our community colleges are a gateway to the professions and to entry into the many branches of the California State University, University of California, and independent colleges such as California Lutheran and Pepperdine University.  Ventura County is fortunate to have Moorpark, Ventura, and Oxnard Colleges strategically located throughout Ventura County to serve the more than 31,000 students that enroll each term on a pathway to success," said Chancellor Harris in complimenting the colleges.
"Chancellor Harris's visit was acknowledgment of the importance of our three-College District," said VCCCD Chancellor Bernard Luskin.  Everyone did an outstanding job; it was a memorable day for all."  "This event truly highlighted Oxnard College and its people, spirit, and focus on service to the community," said Oxnard College President James Limbaugh.  Several VCCCD Board members attended the event, including Board Chair Dianne McKay, Vice Chair Larry Kennedy, Trustee Art Hernández, and Trustee Bernardo Perez," added Chancellor Luskin. "We are proud to be an active and significant member of the 113-member California Community College System."
Photos:
Chancellor Harris thanking Oxnard College Culinary Arts and Restaurant Management students

Dr. Brice Harris, Chancellor, California Community Colleges System, and Dr. Bernard Luskin, Chancellor, Ventura County Community College District
Ventura County Community College District is a member of the 113-campus California Community College system and serves over 31,000 students. The District's three colleges, Moorpark, Oxnard, and Ventura, offer programs in general education for degrees and certificates, transfer to four-year colleges and universities, career technical education, and provide opportunities to engage in co-curricular campus activities. For more information, please visit us at www.vcccd.edu.
###