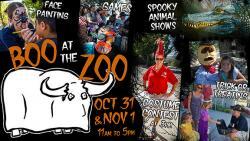 America's Teaching Zoo at Moorpark College is once again hosting its annual "Boo at the Zoo!" event from 11 a.m. to 5 p.m. on October 31 and November 1, 2015.  Tickets can be purchased at the door: $8 for adults and $6 for children ages 3 to 12.  Children under the age of two are admitted free.  Moorpark College is located at 7075 Campus Road, Moorpark, California.  
No tricks, just treats: animal shows, costume parade and prizes, and plenty of excitement for everyone.  Children wearing costumes receive a Zoo BINGO card that can be used to receive a "bag o' treats" in the fun zone.   Kids can also enjoy face painting, games, and not-so-spooky decorations throughout the zoo.
Guests can experience a close-up look at over 100 animals.  Animal shows begin at noon and 2 p.m., with demonstrations starting at 3:30 p.m.  For an extra $7 per person, guests can tour back areas of the zoo and interact with some of the animals.  Behind-the-scenes' tours occur at 12:45 p.m. and 2:45 p.m. and are limited to 15 guests. 
"We have found that our guests are looking for a family-friendly Halloween event, and we have a great one," says Kris Romero, Zoo Operations Assistant. "Each year, more and more families discover this gem of a zoo in their own backyard."  America's Teaching Zoo, the only zoo in Ventura County, is the home of the Exotic Animal Training and Management Program (EATM).  EATM offers educational programs that prepare students to enter the expanding animal care industry through the study of zoo keeping, basic animal medical care, wildlife education, and positive training methods.