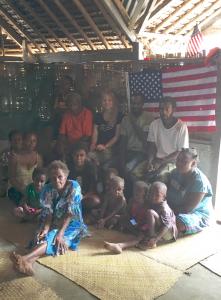 From the Island of Malekula to Moorpark College
By Lauren Rosenthal
Moorpark College anthropology professor Ashley Vaughan knew she wanted to conduct research on the island of Malekula, Vanuatu when after meeting Chief Edward Gorden for the first time, he asked her to join his family and become his honorary adoptive daughter. The surprises didn't end there. While living in the small island country in the South Pacific, Vaughan was faced with no running water, the threat of malaria and learning how to walk and talk in a culture completely foreign to her. 
Vaughan travels to Vanuatu as frequently as she can, every year or so. A cultural anthropologist specializing in medical anthropology, she focuses on the social and cultural changes shaping the lives of the people of Vanuatu, in particular, factors impacting their health.
Vaughan started teaching at Moorpark College in 2014 to express her ardent love for teaching. The professor shares her first-hand experiences with Vanuatu culture with her MC students, teaching them that anthropology provides the freedom to experience other ways of living that inspire both creativity and critical thinking. 
 "Teaching helps you recognize how your own culture and society has shaped how you think. And sometimes that thinking can be flawed or may not serve you well… learning about other ways of thinking helps you as a person grow in many ways," she said.
Vaughan began as an English major at the University of South Carolina. She took one anthropology class, and her passion became clear. A professor convinced her to double major, and she was soon on the fast track to becoming an anthropologist. She knew she wanted to be somewhere in the Pacific Islands, so in 2006 Vaughan started grad school at the University of Hawai'i where she could pursue the associated studies.
In 2007, Vaughan was invited by a friend in the Peace Corps to go with her to a remote island nation in the Pacific called Vanuatu. Chief Edward Gorden, a representative of one of the island's communities, also worked in healthcare and was well-versed in both traditional remedies and Western medicine. She knew right away that Vanuatu was an "anthropologist's dream" Delighted, Vaughan knew she had found a second home and a second family. 
Her worldly-wise experience directs her astute advice: "I recommend that everyone learn about other cultures and customs, even if you can't travel. You don't have to go anywhere…you can watch documentaries, talk to your neighbor or restaurant owner who is from somewhere else. You can find those opportunities in your backyard if you look for them." 
Lauren Rosenthal is a Moorpark College student and intern with the Ventura County Community College District.