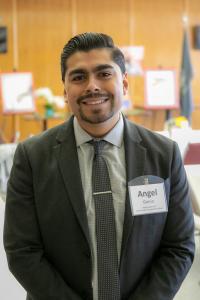 Written by Lauren Rosenthal, Moorpark College alum and a former student worker in the District's marketing department. She will be attending UCLA in the fall.
Angel Garcia: From Pizza Delivery to Public Servant
After he failed his first semester at CSU Northridge, Angel Garcia wrote his intention to withdraw from the college with a defeated look on his face. Refusing to give up on school, Angel enrolled at Oxnard College, and it provided the sense of purpose he needed. 
"Until I attended Oxnard College, I never thought I could find education enjoyable," says Angel, who is the executive aide for the Office of Supervisor Carmen Ramirez, the first Latina elected to the Ventura County Board of Supervisors. "Reflecting back, I wish I would have gone to a community college right after high school."
Angel entered OC in 2015 as a business management major. Despite enjoying his time at the college, he wasn't fully satisfied with his studies. The then-pizza delivery driver felt he needed to shift his career trajectory, but he wasn't sure where to start.
Enter Professor Amy Edwards and her interpersonal communications class. Inspired by her contagious energy and engaging class projects, Angel became infatuated with the field of communications. The moment he realized his passion for public speaking and communicating with people, Angel headed to the counselor's office to change his major.
"Education should be something we enjoy and find fulfilling," Angel says. "Once I discovered my passion for communications, my education became a much more fulfilling journey that I still reflect on to this day."
It wasn't long before Angel earned his associate degree in communication studies, allowing him to transfer to CSU Channel Islands in 2017. He graduated with his bachelor's in organizational communication two years later. During his time at CSUCI, Angel organized a town hall that shed light on homelessness in Oxnard, was vice chair of the Communication Club and became a public speaking champion. 
Since then, Angel's career has taken off and he credits much of his success to his time at OC.
"The flexibility and affordability of Oxnard College, along with the faculty and staff, helped me become the person I am today," Angel says.
Prior to working with Supervisor Ramirez, Angel served as the district representative for State Senator Hannah-Beth Jackson and ran for an Oxnard City Council seat. Not only did he place second, but he was also the youngest contender. 
Angel is a graduate of the Ventura County Leadership Academy, cohort XXVI. He recently ended his service as a commissioner for the Community Relations Committee of Oxnard and as the vice chair of the East Village Neighborhood City Council⁠. His plans for the future include earning his master's degree in public policy and potentially running for an elected office.
"Oxnard College gave me purpose," he says. "It gave me something to aspire to. Oxnard College has some of the most inspiring staff you will find, each with rich stories that anyone can find motivation from. Ever since I found my passion for learning at Oxnard College, life became much clearer and enriched me with the ambition to pursue something great."