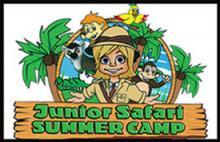 JR. SAFARI allows your child the unique opportunity to come up close and personal with the zoo's animal collection while participating in age appropriate science-based learning experiences. All projects are designed not only to entertain, but also to educate the campers about the natural world of animals. We have put together a summary of themes, hours, and activities your camper will be participating in.
ACTIVITIES Camp activities include animal presentations, handling opportunities*, art projects, and science projects. All activities have been developed by our professional zoo education staff with the campers age in mind. Activities occur within the safety of zoo grounds under direct supervision. The campers will have special access to the back areas, barns, classrooms, zoo kitchen, and wildlife theater.
Full day campers are required to bring a lunch. We provide a morning snack, afternoon snack and drinks each day. Please do not send food items that require heating or refrigeration.
Fridays are special days here at the zoo. Full day campers and Night Owls will have the special privilege of inviting their family and friends to attend an animal show that they have prepared. This is a once in a lifetime opportunity to see what your camper has learned during their week, so bring your cameras. Early Birds are not included in this opportunity, so please choose your session carefully.
COUNSELOR IN TRAINING FOR AGES 14 -17. This is a great opportunity to practice leadership skills while helping campers develop a passion for animals, conservation and science. All hours assisting counselors count as community service. The $50 fee includes a camp t-shirt for each week. Counselors in Training must be available for Full Day during any camp week. Candidates must have attended a minimum of two full weeks of Jr. Safari Summer Camp, and be 14-17 years old. Please note, while you will be working in a zoo setting, this is an opportunity to work with children not animals. Participation is subject to staff approval due to limited space. Contact kromero@vcccd.edu for an application.
CAMP HOURS A full camp day runs from 8:30 a.m. to 4:00 p.m.  If your child is unable to attend a full day, we have "early bird" and "night owl" options available.  An Early Bird's day runs from 8:30 a.m. to 12:00 p.m. A Night Owl's day runs from 12:30 p.m. to 4:00 p.m. All camp sessions begin with drop-off/sign-in with a camp counselor at the front of the zoo. Campers should arrive no earlier than 15 minutes before camp start time.  Late pick up beyond the 15 minute grace period will be charged at a rate of $1.00 per minute.
REFUND POLICY If unforeseen circumstances arise, refunds are as follows:
Up to two weeks before your start date, a full refund minus a$10 handling fee.
Within two weeks of your start date, a 50% refund.
Once your camp date has arrived, no refund will be given.
All refunds will come in the form of a check from Ventura County Community College District. To receive a refund, you MUST submit a copy of your cleared bank check to us! Allow 5-7 weeks for your refund.
*Please understand that although we have many touchable animals at the zoo, the campers' safety is always our first concern. Therefore, campers will not come in physical contact with all the animals at the zoo.