In honor of Women's History Month, OC LIVE invites you to join us for "True Stories of Courage and Survival: Alicia Doyle and Flo Trapani" on Thursday, March 9th at 6:00pm in the beautiful Oxnard College Performing Arts Building (PAB). Meet two women who defied the odds and fought stereotypes, abuse and bias. Two-time Golden Glove boxing champion and award-winning author Alicia Doyle is joined by Flo Trapani, whose path-breaking law enforcement career is the subject of Doyle's new book, The Oath. Get inspired by their true stories of courage and survival! There will be a Q&A and book signing with the authors immediately following their presentation. Books will be available for purchase after the event.
This is a FREE event that is open to the public. ASL services will be provided. No tickets are necessary. Parking is FREE. If you are unable to join us in person, feel free to livestream the event at: LIVESTREAM@ocliveonline7985. For more information about OC LIVE events, email: oclive@vcccd.edu.
Oxnard College does not discriminate on the basis of race, color, national origin, sex, disability, age, or sexual orientation.
El Colegio de Oxnard no discrimina por motivos de raza, color, origen nacional, sexo, discapacidad, edad u orientación sexual.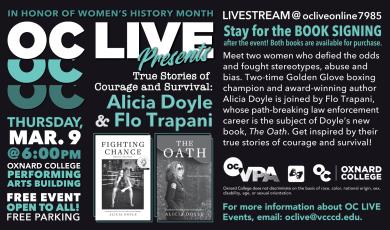 Location
Oxnard College Performing Arts Building