Instructional Technologist / Designer
Education
M.A. American History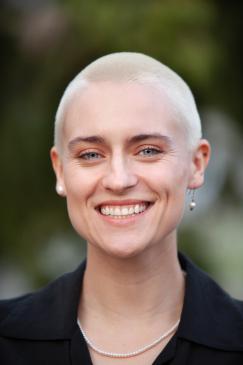 About
Trudi's background is in education technology, online education, and open educational resources. Over the last five years, they have worked at and provided counsel for a variety of community colleges, mainly Title V institutions in California. As an OER specialist and consultant, they have worked to create, remix, and revise over 100 OER textbooks for the California community college system and beyond. As an education technology specialist and instructional designer, they focused on providing equitable, cutting-edge education technology solutions to CCCs.  In their previous role as an Open Education Project Manager at SPARC, they advocated for Open Education policies and initiatives at the state and federal level. 
Trudi's advocacy work has primarily involved helping colleges create sustainable, equitable, and open courses and course materials for students. When not speaking on the technical side of open and online education, Trudi speaks on the critical role that equitable approaches to ed tech and open practices play in shaping truly inclusive and effective learning environments. As a keynote panelist for OE Global 2019, Trudi advocated for bringing students themselves into the OER creation process. In 2021, Trudi was selected as a research fellow for the California Alliance for Open Education.
Trudi's commitment to online education and the CA community college system is motivated by personal as well as professional experience. As a low-income, first-generation college student, CA community colleges offered them the opportunity to succeed academically and foster a civic mindset. 
Trudi has a BA in American history and religion from The Master's University and a MA in American history from California State University, Northridge.