Office
Learning Resource Center (LRC), 308: take the elevators to the 3rd floor.
Education
Ph.D. (English), University of California, Santa Barbara
M.A. (English), University of Windsor, Canada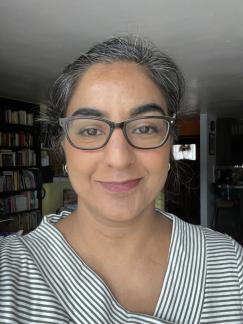 About
I've been teaching in higher education -- at community colleges and universities -- for over twenty-five years, beginning my career as a teacher at a community college in 1995 in my Canadian hometown, and yes, Canada is where I was born. I got married to a Canadian in 1997 and moved with my husband to the U.S. in 1998 to pursue a Ph.D. in English Literature at UCSB after having completed a B.A. in English (Creative Writing emphasis) and an M.A. in English (Cultural Studies emphasis) at the University of Windsor. I started teaching at Oxnard College and Ventura College in 2005 as soon as I received my green card and thus permission to work outside the confines of my F-1/I-90 status as an international student. On a more personal note, we've been rescuing dogs since moving to California, whether as fosters or adoptees, and I also write creatively every morning (see some publications below).
Publications
"S in Segments" https://www.2river.org/2RView/27_2/poems/lall.html
"The Fruit Basket" http://www.desilit.org/magazine/issues/2010/issue6/humor/6_sumita.php
"'Subverting the Taste Buds of America': Transnational Political Agency in Bharati Mukherjee's Novels Wife (1975) and Jasmine (1989)" published in Phoebe: An Interdisciplinary Journal of Feminist Scholarship, Theory, and Aesthetics 16.1 (2004)