Education
M.A. English, National University
B.A. Mass Communications & Journalism, PR Emphasis, CSU Fresno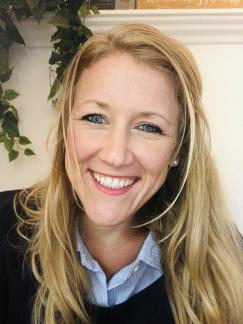 About
After spending over 15 years in the digital media field as a journalist, and public relations specialist, Kelsey Stuart joined the Moorpark College Digital Journalism & Public Relations program as an Assistant Journalism Instructor in 2018. 
Since her start she has helped to re-design and align 95% of the journalism courses to reflect CVC-OEI, offer Zero Textbook Costs, and enhance all lessons/lecture material to reflect current industry standards. Four out of her seven courses are badged and offered in the state-wide exchange of California Community Colleges classes. She works heavily to secure Open Education Resources for her students, and serves as the OERI Discipline lead for Journalism in California Community Colleges, as well as the ASCCC representative for the Online Exchange Initiative Advisory Committee.
Kelsey instructs in Journalism M02: Digital Media Reporting & Writing, Journalism M03: Adv. Digital Media Reporting & Writing, Journalism M01: Intro to Mass Communications, and Journalism M14: Digital Public Relations, while facilitating the Digital Public Relations club on campus, and the award-winning student led online newspaper, the Moorpark Reporter (Journalism M10A-D). 
Kelsey also serves as the Distance Education Coordinator for Moorpark College. She launched a digital tools analysis in 2021 that helped to curate her colleagues' instructional needs in their online platforms. In 2022 she began working with the DE Success team to help align Moorpark's online courses, certificates, and programs to the next step, as well as to enhance the DE Programs visibility and capabilities.
Kelsey is involved with MC campus life as much as possible, her husband is the head football coach, Mike Stuart, and she helped to start the MC Spirit program at the college in 2016. Now a full fledged Commercial Dance Certificate in the MC Dance Department, Kelsey loves to watch the MC Athletic Games and MC Spirit Squad in action whenever possible with her four sons.