Education
M.S. in Environmental Science
B.A. in Geography (environmental analysis concentration)
Certified Land Use Planner by American Institute of Certified Planners (AICP)
Awards
Navy Region Southwest, Planner of the Year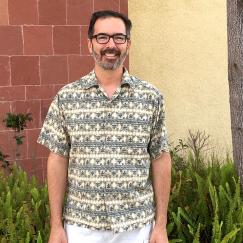 About
Professor Danza has over 25 years of experience as a professional planner (urban, environmental, and water resources), adjunct professor, environmental leader, and wilderness skills educator.  His work experiences, world travel, and his love for science become part of the classroom experience.
Publications
Thesis: Beneficial Use Investigation of the Los Angeles River, Prospects for Restoration; 5-1994
Engineering News Record "Flood Control Issues"; 03-1996

"Proposed Flood Control Strategy for the Los Angeles and San Gabriel River Systems", FoLAR, 01-1995

Los Angeles Drainage Area Project Alternatives Report, FoLAR; 01-1994.

Land and Water Journal "The Impact of Concrete Urban Rivers"; 01-1995