STEM Student Success & Support Specialist II, Oxnard College
Office
Office inside OC Library (LLRC) Room #115
Monday: 8:00 am-5:00 pm, Friday: 8:00 am-5:00 pm
Education
MS in Counseling, California Lutheran University
K-12 Credential, California Lutheran University
BA in Spanish Chicano/a Studies Minor, CSU Channel Islands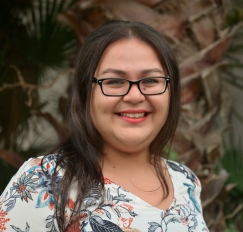 About
Haida Jimenez-Martinez is the STEM Student Success and Support Specialist II for OC STEM Guided Pathways to Success in STEM (GPS) grant at Oxnard College. 
Haida enjoys giving back to the community and is passionate about guiding and supporting students reach their individual goals. She is a native of the City of Oxnard and is a proud first-generation college student and former Migrant student.
Haida has worked with students from elementary school through undergraduate school over the last 15 years. Previously, Haida worked at Moorpark College focusing on Career Technical Education (CTE). She also worked for over 8 years as a Counselor, at California State University Channel Islands. She has a broad range of experience working with first-generation students, low-income students and at-risk students.
She earned an MS in Counseling degree from California Lutheran University, a K-12 Credential also from California Lutheran University and a BA in Spanish with a Chicano/a Studies minor from California State University Channel Islands.
Haida enjoys spending time with her son, husband and entire family. She is delighted to have been working with the OC STEM team and students over the past 5 years. Haida looks forward to continue to be an agent of change and help to expand STEM to underrepresented students.