Dean of the Library and Liberal Studies
Office
Liberal Studies Division Office
Education
Doctorate of Education, Educational Leadership (2016)
Master of Arts, Communication Studies
Bachelor of Arts, Communication Studies
Awards
Model Communication Studies Program: WSCA 2010
Mark Dever Award for Excellence in Service in Teaching by a Full-Time Instructor (2013)
William Simpson "Heart of Gold" Award for Excellence in Service (2017, 2019, and 2022)
Presidential Citation from WSCA (2022)
Lambda PI Eta (Official National Communication Honor Society)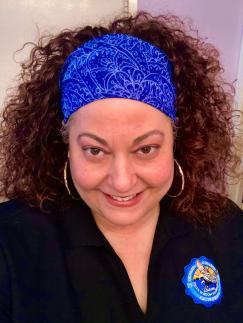 About
Dr. Amy Fara Edwards earned her Doctorate of Education in Educational Leadership with an emphasis on community college policy (2016), a Masters (2001) and Bachelors (1998) in Communication Studies all from California State University, Northridge. She served as a tenured Communication Studies professor at Oxnard College since 2004, as well as the Academic Senate President, Academic Senate Vice-President, and Academic Senate Secretary. Serving as spokesperson for all Academic Senate matters with Board of Trustees, district-wide committees, media, and statewide organizations gives her a unique perspective on the fundamentals of VCCCD.
Dr. Edwards has served as the Visual and Performing Arts Department Chair for eight years, Director of OC LIVE since 2017, and sat on over 25 district and campus committees, including multiple tenure and evaluation committees. She published an article in the New Directions for Community College journal (2017) on women in academic leadership, and has held multiple leaderships positions in professional organizations like the Western States Communication Association.
Her philosophy on education and leadership is college- and student-centered, and she hopes that she can collaborate with the Condors to enhance inclusion at the college. As the Dean of the Library and Liberal Studies, she hopes to become a more pivotal and equitable servant leader in higher education.
In her free time, she loves spending quality time with her husband, Guy, her two kitties, Winston and Rusty, and she loves to sing, dance, knit, read, and listen to true crime podcasts.  
Publications
Edwards, Amy F. (Fall 2017). Achieving Gender Equity for Women Leaders in Community Colleges Through Better Communication. New Directions for Community Colleges. Number 179.

Permanent website to view Amy's article online: http://hdl.voced.edu.au/10707/441666