Thursday, March 19, 2020 - 7:00am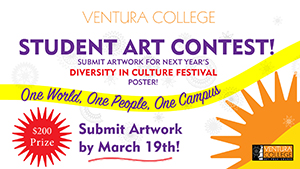 Student Art Contest-$200 PRIZE! Submit Artwork for Next Year's Diversity in Culture Festival Poster!
Submit artwork by March, 19, 2019. Artwork must reflect the theme, "One World, One People, One Campus." Artwork can be any medium however submission must be in a digital format of 24x36" at 300ppi. File size must be 10mb maximum.
Email submission to vcartgallery@vcccd.edu. Please include a cell phone number for contact. Winner will be announced at this year's Diversity in Culture Festival which will be held on March 25 & 26, 2020