Thursday, March 5, 2020 - 12:00pm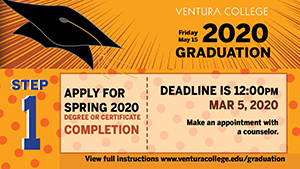 The SPRING 2020 Degree/Certificate Completion Application is available now. Deadline for completion is Thursday, March 5, 2020 at noon. (12 pm). Summer 2020 applicants who apply for graduation before April 3, 2020 may participate in the May 2020 Commencement Ceremony.
The 2020 Ventura College Commencement Ceremony will take place on Friday, May 15, 2020 at 10:00 AM at the Ventura College Sportsplex. View complete instructions online at www.venturacollege.edu/graduation or pick up printed instructions at the Student Services Building counter.
1. APPLY FOR DEGREE or CERTIFICATE COMPLETION:
HOW to APPLY for Degree Completion:
If you haven't already, make sure OFFICIAL AP SCORES, (Advanced Placement examinations on which a student scored 3 or higher) and OFFICIAL TRANSCRIPTS from each college and university you have attended are on file with Admissions and Records.
The Degree/Certificate Completion Application must be completed in person with an Academic Counselor.
Make an appointment with a counselor to apply for Degree/Certificate Completion in person at the Information Desk (SSC Building) or by calling 805.289.6448
Counseling Department office hours (SSC Building) Monday & Tuesday 7:45am - 6pm, Wednesday & Thursday 7:45am - 5pm and Fridays, 7:45am - 1pm