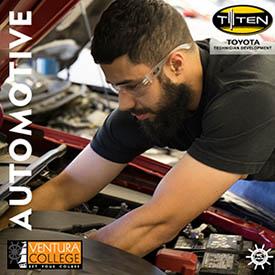 The Ventura College Automotive Technology program will receive the Toyota Technician Education Network (T-TEN) Re-certification Award Wednesday, July 19, 2017, to mark the conclusion of a two-day curriculum and operational assessment scheduled at the Ventura College Automotive Building (WAM), located on the college campus in Ventura, CA.
The Automotive Technology program at Ventura College is a Master Certified National Automotive Technicians Education Foundation (NATEF) program. The program offers courses aligned with industry standards designed to prepare students with the skills needed for employment in the aftermarket, dealership, and smog industries. In addition to a comprehensive general automotive program, Ventura College offers specialized programs, including the Toyota T-TEN program and the California BAR (Bureau of Automotive Repair) Certified Smog Program. Courses range from basic to advanced levels, cover all automotive content areas as required by NATEF and designed by Automotive Service Excellence (ASE), and are designed to simulate real-world vehicle faults that emphasize the hands-on skills required to inspect, service, diagnose, and repair current model year vehicles.
Toyota's T-TEN is an automotive technician-training program. A partnership between Toyota, community colleges, vocational schools and Toyota and Lexus dealerships, T-TEN is an industry leading program helping to develop and place thousands of factory certified technicians in challenging, rewarding and well-paid positions at Toyota and Lexus dealerships. The T-TEN program provides state-of-the art, hands-on automotive diagnosis and repair education and training in classroom and dealership settings.
"The collaboration between Ventura College and Toyota has been a life-changing experience for many students who have secured jobs in this field after successfully completing an Associate in Science or Certificate of Achievement," stated Ventura College President David Keebler. "The recertification award ceremony is a symbol of the quality and care that goes into assuring the program meets industry standards."
"The Automotive Technology program at Ventura College is an industry recognized program with dedicated faculty providing students with the knowledge and hands-on skills required to begin rewarding careers in the automotive technology industry," stated Ventura County Community College District Chancellor Greg Gillespie.  "We are proud to continue this partnership with Toyota," Gillespie added.
For more information on the career opportunities available to students after completing one of the career pathways in the Ventura College Automotive Technology program, please visit Ventura College Automotive.  For market and employment data go to the Bureau of Labor Statistics Occupational Employment Statistics and the Bureau of Labor Statistics Occupational Outlook Handbook
Automotive Service Technicians and Mechanics Employment Data
| | | |
| --- | --- | --- |
| Mean Hourly Salary (California) | Mean Hourly Salary (Oxnard, Thousand Oaks and Ventura) | Number of jobs in California |
| $21.61 | $20.16 | 61,140 |
| | | |
| --- | --- | --- |
| Number of Jobs (2014, National) | Projected Jobs (Employment Change, National 2014 - 2024) | Projected Growth (National) |
| 739,900 | + 39,100 | + 5% |
Other points of interest:
Currently employed students:  49 of 50 current T-TEN students are in paid internship positions in our dealer network
Toyota has donated/loaned more than $500,000 in equipment, support and vehicles in the past two years
The college has an extensive relationship with Toyota spanning approximately 30 years
Many of our T-TEN graduates have made careers in the automotive field
Ventura College has written curriculum that is now "Universal Curriculum" for its two-engine performance courses (V42 – Engine Management and V47 – Drivability) for the T-TEN community (currently 37 community colleges across the nation)
Collectively, the number of job openings exceeds the number of qualified applicants