Sunday, December 15, 2019 - 2:00pm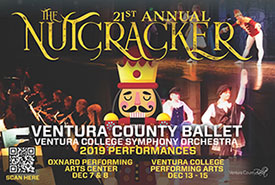 Ventura County Ballet Company (VCBC) will once again dance into the hearts of local residents during the holiday season as it brings back its acclaimed production of "The Nutcracker". The enchanting choreography with Tchaikovsky's famed score accompanied by the Ventura College Symphony Orchestra will add to the ambiance making a memorable holiday event for families. The only ballet in town with a full symphony orchestra. Guests are invited to take a magical journey into the world of life-sized mice, dancing sweets and of course, a magical prince. The VCBC's adaptation of the theatrical event will bring the holiday tradition to life by thrilling audiences with its captivating storytelling, larger-than-life imagery, visual effects and opulent costumes.
December 7 and 8 @ 2:00pm
Location: Oxnard Performing Arts Center.
---
December 13 @ 7:00pm
December 14 @ 2:00pm and 7:00pm
December 15 @ 2:00pm
Location: Ventura College Performing Arts Center.