Saturday, February 1, 2020 - 11:00am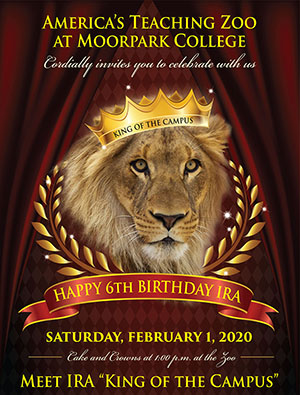 Every campus has a king! Moorpark College has IRA the lion, "King of the Campus". Join us February 1st, as we celebrate IRA's birthday with a WILD party at America's Teaching Zoo. Guests of this party will sing "Happy Birthday" to IRA as he claws and bites into his presents. All party guests will get a piece of birthday cake and kids can make crowns to wear for this royal event!
The zoo is open from 11 a.m. – 5 p.m. on Feb. 1. In addition to Ira's Birthday Celebration, there will be animal shows at noon and 2 p.m. as well as animal demonstrations at 3:30 p.m. Admission is $9 for adults, $7 for children and seniors, and free for members and children under age 2.
Location: America's Teaching Zoo @ Moorpark College
Contact: (805) 378-1441