Tuesday, March 3, 2020 - 5:00pm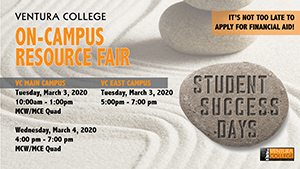 Join us on the Ventura College East Campus for Student Success Days, a resource fair connecting students with campus resources. This event provides students with the opportunity to connect with staff and volunteers from VC Departments & Services. Join us for free food and giveaways.
10:00am - 1:00pm MCE/MCW Quad
Look for our Student Success Agents roaming the campus and offering snacks, giveaways, and information to our evening students.