Thursday, March 12, 2020 - 6:30pm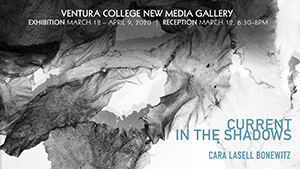 The Ventura College New Media Gallery is honored to present Ojai artist, Cara Lasell Bonewitz in her first local solo exhibition, "Current in the Shadows." Join us on Thursday, March 12 from 6:30 pm - 8:00 pm for the Opening Reception.
Cara Lasell Bonewitz's latest body of material engagement and dedicated observation features a range of historical trends in naturalism and art, such as botanical gardens, Victorian seaweed collections, and pressed flowers. Current in the Shadows references historical methods of collecting, documenting, and display with an interdisciplinary approach that highlights links between artistic and scientific spheres. Bonewitz uses painting, drawing, light, and fiber-based mediums to explore collecting, beauty, decay and the tenuous categorization of these interrelated fields. Bonewitz is a graduate of Yale University and earned her master's degree at the Glasgow School of Art in Scotland. She maintains a studio and work space on Montgomery Street in Ojai.
The exhibition runs through April 9, 2020. The New Media Gallery is located at 4667 Telegraph Road, Ventura, CA 93003 in the Studio Arts Building. Gallery Hours Monday - Thursday, 10:00 am - 4:00 pm. Parking $2
Location:
New Media Gallery - Studio Arts Building