Saturday, March 14, 2020 - 11:00am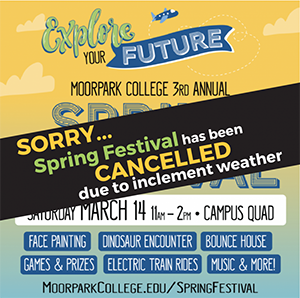 This event has been CANCELED.
Come "Explore Your Future" at this year's MC Spring Festival, taking place on Saturday, March 14, 2020 from 11:00 a.m. - 2:00 p.m. on the Moorpark College upper-campus quad.
All are welcome to check out this showcase of Moorpark College's academic offerings, student services, and clubs and activities while enjoying festivities that include a bounce house obstacle course, a magic show, free prizes, food trucks, and more!
Location:
Moorpark College upper-campus quad