Assistant Dean: Library, Distance Education, Instructional Design, and Tutoring & Learning Center
Office
Monday: 8:00 am-5:00 pm, Tuesday: 8:00 am-6:00 am, Wednesday: 8:00 am-6:00 pm, Thursday: 8:00 am-5:00 pm, Friday: 8:00 am-3:00 pm
Education
Masters in Business Administration
Awards
Moorpark College - Classified Employee of the Month - September 2021
Academic Senate Awards - Classified Employee of the Year - May 2021
Larch Corrections Center - Outstanding Team Award - December 2018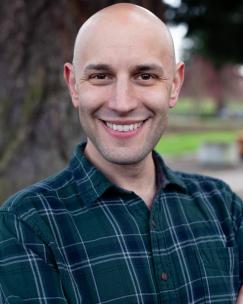 About
Michael's career began in 2004 when, fresh out of community college, he was selected to fill one of two full time director positions for PHAME, a Portland area nonprofit organization committed to making the fine and performing arts accessible to adults with developmental disabilities. During this time, Michael gained valuable experience in running the day to day operations of a small business/nonprofit organization and was inspired to return to school in order to become a more effective manager.

In 2009, Michael completed his Bachelor of Science in Business Management from the University of Phoenix. Shortly after completing his Bachelors Degree, he was hired by Classic Pianos, a family owned piano retail store, to provide support in the company's administrative department. One year into his career at Classic Pianos, he was promoted to oversee all administrative operations at the company's Bellevue, WA location. Around this time, Michael had also returned to school to earn his Masters in Business Administration.

In the winter of 2011, Michael completed his MBA from Marylhurst University and was quickly hired to fill the role of Executive Director for Camp Meadowood Springs, a nonprofit summer camp organization in Pendleton, OR for children with speech and communication challenges. A short time later however, Michael was asked to return to Classic Pianos to fill a void left by the company's long term Office Manager. For the next three years, Michael oversaw the administrative the operations of the Portland, OR headquarters location while simultaneously providing support for other stores across the country.

In the fall of 2016, Michael left Classic Pianos to begin teaching Business courses for Clark College at Larch Corrections Center where he worked with a cohort of up to 24 students as part of a one year business certificate program. Today, Michael an Assistant Dean at Moorpark College supervising the Tutoring and Learning Center, Library, Distance Education, and Instructional Design.

Michael is certificated in CompTIA IT Fundamentals, CompTIA A+, and is a certified Microsoft Technology Associate in Windows Operating System Fundamentals. Michael was also featured in an short documentary video demonstrating the use of Canvas LMS in corrections education programs which debuted at the 2018 InstructureCon with over 1,500 educators in attendance.