Office
SCI 121 (office); SCI 119 (classroom & drop-in hours)
Monday: 11:00 am-12:00 pm, Tuesday - Wednesday: 10:00 am-11:00 am
Education
MS Paleontology
BS Geology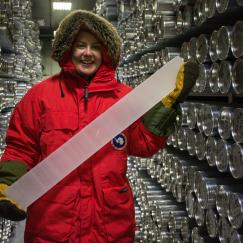 About
🙋Future Student FAQ
View the Spring 2022 course schedule to see start dates and course modalities.
Is there a required textbook for your geology courses? Yes - however, all geology lecture courses use Open Education Resources (OER), which are free digital textbooks. All OER texts and materials will be accessible through Canvas.
Are there required lab materials for your geology courses?  Yes - however, all geology lab courses will use an Open Educational Resource (OER) lab manual, which is a free digital lab "book". Additionally, labs require a rock and mineral kit which will handed out during the first few weeks of lab and must be returned at the end of the semester. Additional information will be available via your instructor and on the course Canvas page.
The class section I want is full. Can I get in? All class enrollment is done through VC online registration.  If the section is full, students will only be added from the waitlist when an enrolled student drops. Automatic enrollment from the waitlist will continue until the end of the first week of classes.
Can I get an add code even if the class is full? Add codes are not available until the second week of classes.  Add codes will be given out at the instructors' discretion, and only if a space becomes available in the class section. If add codes are given out, students on the waitlist will be given priority, in the waitlist order. Due to limited samples and materials, we are unable to enroll beyond the 24-student cap in lab courses.
I cannot attend class on the first day of class/I will miss classes in the first two weeks of class. Is that, OK? For both in-person and hybrid and online classes you MUST complete weekly activities to maintain good standing in the course. There are many resources available to help you with online courses. Check out VC Distance Education for current students.
Can I attend a different class section other than the one in which I am enrolled? No.
Where can I get more help with registration or getting ready for the fall semester? All student services have currently been moved online. Visit the VC Student Connect Center webpage for more information. Also, consider prepping for the new semester by completing tutorials on Zoom, Canvas and online learning, all available through VC Distance Education.
Publications
Korth, W.W., Branciforte, C., "Geomyoid Rodents (Mammalia) from the Ridgeview Local Fauna, Early-Early Arikareean (Late Oligocene) of Western Nebraska", Annals of Carnegie Museum, 76(3):177-207 (2007).
Pagnac, Darrin; Benton, Rachel; Shelton, Sally; Branciforte, Chloe; Darbyshire, Jane; Johnson, Shawna; Mead, Jack; Miller, Matthew; Pinsdorf, Michelle; Sauter, Matthew. 2009. Pig Dig Report or Tolstoy? Compiling a record of fifteen years of student activity at Conata Picnic Ground, Badlands National Park, SD. 8th Conference on Fossil Resources. [ABSTRACT]