Professor of Music; Director of Choral and Vocal Activities; Applied Music Coordinator; Arts, Media and Entertainment Success Team Faculty Lead; Faculty Advisor
Office
Monday - Tuesday: 12:00 pm-1:00 pm, Wednesday: 12:00 pm-4:00 pm, Thursday: 12:00 pm-1:00 pm
Education
University of Southern California
University of Cincinnati College-Conservatory of Music
Berklee College of Music
California State University, Fullerton
Awards
American Society of Composers, Authors, and Publishers (ASCAP)/Chorus America Adventurous Programming Award
San Francisco Classical Voice Audience Choice Awards: Best New Music Performance (2019-2020 Season)
GRAMMY Music Educator Award Quarterfinalist (2019)
Memberships: Voting Member, Recording Academy (GRAMMY); Member, American Choral Directors Association (ACDA); Member, Kappa Delta Pi International Honor Society in Education; Member, Music Association of California Community Colleges (MACCC); Member, National Association for Music Education (NAfME)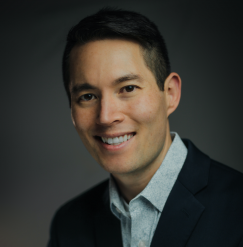 About
Everyone can sing!  If you are interested in joining the Moorpark College Choral & Vocal (MCCV) Program family, please fill out our interest form here, and an MCCV intern will reach out to you. 
For more information about the Moorpark College Choral & Vocal Program, please email mcchoralvocalstu@vcccd.edu or call (805) 553-4912.  
For more information about how to become a Music Major at Moorpark College, visit our website. 
---
Brandon Elliott believes that music changes lives and serves as our greatest living metaphor for unity and harmony. This belief is central to his professional career as Associate Professor at Moorpark College and Founder of the Choral Arts Initiative. 
Through the Choral Arts Initiative, he provides opportunities for composers all over the world to have their works performed, bringing stimulating choral performances to local and virtual audiences. 
As the Founding Executive Director, Brandon ensures the stability and success of the organization, and as the Artistic Director, he implements the creative vision by curating performance programs, commissioning new music, sourcing new, fantastic talent, and conducting performances.
As the Director of Choral & Vocal Activities and Associate Professor of Music at Moorpark College, Brandon serves as a guide to students as they grow personally and professionally, providing mentorship, education, and encouragement. 
Choosing a career in music is choosing a career with many obstacles to success. Brandon's ability to overcome these obstacles is testament to his passion, persistence, and focused determination. He challenges preconceived ideas and explores new approaches, and in doing so, helps his students forge their own paths and reach their goals.
Learning is a partnership; whether he's conducting, teaching a class, or advising a student, Brandon engages with open and honest conversation and collaboration so everyone can all learn and grow. While he does believe music can change the world, he also believes internal systemic change must happen to address critical inefficiencies and inequalities. Brandon is driven to be part of that change, providing equitable opportunities for everyone to engage with, and be impacted by, music. 
Ultimately, Brandon's vision is to inspire a more unified and harmonious world by spreading empathy and human connection through this form of artistic expression. 
Career Highlights:
• Billboard-charting producer and director. In 2017, Choral Arts Initiative released its first album, ranking 6th on the Billboard Charts and 4th on iTunes for New Classical Releases, and it was a #1 best seller the week of the release. 
• Winner of ASCAP/Chorus America Award for Adventurous Programming in 2017.
• Winner of the American Prize in Choral Performance from The American Prize Foundation in 2014.
• Finalist for the American Prize in Choral Conducting from The American Prize Foundation in 2014.