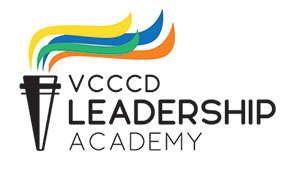 Consider participating in the VCCCD Leadership Academy. In order to positively affect student success and institutional transformation, our intent is to provide opportunities for professional growth, advancement, and leadership development.
The Leadership Academy will include:
Recognizing leadership styles, identify personal strengths, and building teams.
Development of strategic planning and communication skills.
Working together in a team to develop unique approaches and creative ideas.
A review of institutional dynamics both local and system-wide.
Learning how to advocate for and implement change in the service of our diverse students and communities.
About the Program
The Leadership Academy is a one-year coordinated leadership development program that brings classified staff, full-time faculty, and managers together in a supportive environment.
The components of the Academy include:
Seven class sessions held once a month between October 2018 and May 2019
Trip to the Community College League of California (CCLC) Legislative Conference, January 2019
Interactive team project for solution-based learning
Reflective journaling to build contemplation skills
Welcome reception
Academy Completion Recognition
The Academy sessions are interactive and engaging to better immerse participants in the learning experience. Because the Chancellor has taken an active role in the design of the Leadership Academy, the curriculum will be tailored to the needs of VCCCD, while still incorporating best practices from other community college leadership programs. The Chancellor will continue to offer direct guidance throughout the program. Participants will learn from recognized community leaders including VCCCD faculty, administrators, and executives. They will have opportunities to interact with community college presidents, state leaders, community partners, and constituents to understand broader community college needs. The CCLC Legislative Conference will allow attendees to learn first-hand about advocacy as well as the latest news on higher education in California – including legislative proposals affecting community colleges and student learning. Attendees will create an individual professional growth plan and will be required to keep a journal. During the Team Project module, participants will work in teams with a guide to offer a solution to a problem or issue. Creative and innovative ideas that come from this module may be implemented at the District. The Academy will culminate with project presentations and a graduation ceremony. Participants will receive a certificate upon completion of the Academy.
Topics
Community College Financing/HR Practices
Finding Your Strength As A College Leader
Leadership Communication
Understanding VCCCD Services
Leading Diversity, Equity and Student Success
Advocacy At Work, and the Board
Generating Resources, Creating Effective Internal and External Partnerships
Continuous Improvement and Data-Informed Decisions
Community College Leadership/Crisis and Emergency Management
Team Project Presentation
Session Dates
Session 1 – October 12, 2018
Session 2 – November 2, 2018
Session 3 – December 7, 2018
Session 4 – January 27-28, 2019 (Optional, but strongly recommended)
Session 5 – February 8, 2019
Session 6 – March 8, 2019
Session 7 – April 12, 2019
Session 8 – May 10, 2019
Session Times
Location
VCCCD, 761 East Daily Road, Camarillo - District Dr. Thomas G. Lakin Boardroom 108
*Session Dates, Location, Topics, and Summaries are tentative and subject to change. Participants will be notified of date changes in advance.
The opportunity to apply to the Leadership Academy is available to all interested classified staff, full-time faculty, and managers that want to grow their leadership potential and prepare to advance their career. Applicants must have been with the District for a least one full year, and have some leadership experience on committees, within departments, or other initiatives. Manager's approval is part of the application process. The Academy class will be limited to 25 participants. Applicants selected for admission into the Academy will be expected to commit to the standards developed for the participants of the Academy. This includes regular attendance and active participation in leadership sessions, reading assigned materials, doing research and homework, and in all other respects meeting expectations of the Academy. Applicants will be required to meet with their group for approximately 3-4 hours per week outside the academy-scheduled hours. To be considered individuals must submit a completed application by September 14, 2018. Applicants will be notified of acceptance into the Academy by the end of September 2018. Participants will receive release time to attend Academy sessions. However, participants will have to invest personal time for homework, project, and other assignments. There is no additional remuneration for participating in the Academy program. Applications will be sent via email to all employees.
2018-19 VCCCD Leadership Academy Application
Statement of Support Form
For additional information, please contact Laura Brower, lbrower@vcccd.edu, (805) 652-5505.